Chiropractic care is very systematic, and at Kennedy Chiropractic we follow our trusted methodologies to help heal your body. Every plan will be adapted and created to meet your specific needs and symptoms, but care from our office is delivered in three different steps or phases. Following these steps will result in not only pain relief, but an overall healthier and well you.
Phase 1: Relief Care
If you are in pain when you come into our office, our first priority at Kennedy is to rid your body of its pain response and to make sure you feel better. The length of treatment will vary depending on the severity of the condition, but most patients are in the relief phase for no more than three weeks.
Phase 2: Corrective/Restorative Care
During the corrective care phase, we focus on rehabilitating the muscle and other tissues in your body. This stage typically lasts longer than the first stage, because we are emphasizing and promoting natural healing. Strengthening the tissues in your body will help to prevent further injuries down the road. Again, the duration of this stage will depend on your overall health, lifestyle and specific health problem. Phase 2 can last from a few weeks to a couple of months.
Phase 3: Wellness Care
As with anything in life, it is important that we keep our bodies healed and well maintained once we have resolved the initial concern. Once you have fully healed, we recommend that you come in for periodic adjustments, to help you achieve your lifestyle and health objectives. Taking the time to continue your care will severely limit your risk of re-injury in the future and promote continued healing in your body.
Want to learn more about what to expect at your visit?
If you'd like to learn more about our practice before coming in for an appointment, feel free to call us! We'd be happy to show you around and talk through your symptoms before making any adjustments.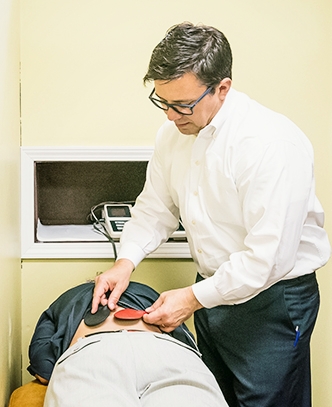 Let us know past medical history, what questions, concerns or goals you have and how we can help improve your overall level of wellness.